Understanding Pterygium
Pterygium (pronounced "tur-RIDGE-ium") is a benign thickening of the outer coating (conjunctiva) of the eye that grows onto the cornea. As a pterygium grows, it may become red and irritated. Eventually, it may cause visual disturbances by disrupting the normally smooth surface of the cornea. In severe cases, a pterygium can entirely block a patient's vision.
In mild cases, pterygium redness and discomfort can be controlled with lubricant eye drops (artificial tears). When symptoms of redness, irritation, or blurred vision are resistant to conservative treatment or when vision is affected by the progressive growth of a pterygium, surgery is considered.
William Ford (Executive Chairman of Ford Motor Company) describes his Pterygium Surgery at Harvard Eye Associates with Dr. John Hovanesian.
"I had no discomfort and no pain. A few days later, I returned to work!"
– William C. Ford, Jr., Chairman of Ford Motor Company
Check out the video below to see Tori Gilkerson, 2016 World Surf League Women's Longboard Champion, talk about her pterygium removal experience here at Harvard Eye.
Causes of Pterygium
Continuous exposure to UV radiation (usually from sunlight) is the most common cause of pterygium. When the eye is continuously assaulted by UV rays, the conjunctiva may thicken in a process similar to callus formation on the skin. The sensitive structures of the outer eye often cannot comfortably tolerate this degenerative process so irritation, redness, foreign body sensation, and eye fatigue can result. This condition can also be caused by continuous exposure to dry, dusty environments.
We literally "wrote the book" on pterygium. One of our Orange County pterygium specialists, Dr. John Hovanesian, authored a book on innovative pterygium removal techniques.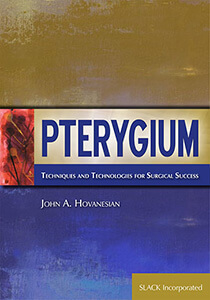 Treating Pterygium: Traditional Autograft Method
In pterygium surgery, the abnormal tissue is removed from the cornea and sclera (white of the eye). In traditional pterygium surgery, the white of the eye was left exposed after surgery and required a healing time of 2-4 weeks and the pterygium would often grow back even larger in size. To reduce the chance of recurrence, many cornea specialists incorporate autograft technology. The gap in the mucous membrane (conjunctiva) tissue where the pterygium was removed is filled with a transplant of tissue from the upper eyelid and then stitched closed. This can cause discomfort for several weeks.
Treating Pterygium: No-Stitch Surgery
Harvard Eye Associates is excited to offer an incredibly successful new autograft technique using tissue "glue" for no-stitch pterygium removal surgery. The abnormal corneal tissue is removed and replaced with a thin graft of normal tissue. No-stitch pterygium surgery is made possible by the use of modern tissue adhesive* composed of clotting proteins normally found in human blood. Tissue adhesive allows the surgeon to secure a conjunctival autograft in seconds rather than minutes. After about one week the tissue adhesive dissolves, leaving no residue and the eye heals comfortably.
Amniotic Membrane No-Stitch Pterygium Surgery
Our surgeons may also recommend the use of amniotic membrane with your pterygium surgery. Amniotic membrane is a surgical material derived from the surface cells of the human placenta. Amniotic membrane has been used in eye and other surgeries for over 50 years. Because of its proven ability to prevent scar tissue, it is used to reduce the chance of regrowth after pterygium removal to less than 1%.
Benefits of No-Stitch Pterygium Removal Surgery
Best technique
More comfortable
Shorter recovery – return to work within 1-2 days after surgery
Excellent results
Reduced risk of pterygium growing back
Research studies performed at Harvard Eye Associates on hundreds of patients undergoing pterygium surgery have shown the modern techniques above can reduce the chance of regrowth with this procedure to less than 1%, compared to a 50% chance of pterygium regrowth with older methods.
Preventing Pterygium
Regularly wear UV 400 rated sunglasses when outdoors in sunny conditions
Wear sunglasses with a wrap-around design
Wear a hat with a wide brim
To learn more about no-stitch pterygium surgery in Orange County, CA, contact us to schedule an eye exam.
*Fibrin tissue adhesive is a drug approved by the FDA for abdominal surgery. Although its use in eye surgery has not yet been specifically approved by the FDA, continuing research demonstrates that this technique is a safe and effective alternative to eye surgery using stitches. Although tissue adhesive is derived from human blood products, absolutely no cases of blood-borne infection have ever been reported among millions of patients treated with this material.