Orange County Eye Doctor
Specializing in Oculoplastics & Reconstructive Surgery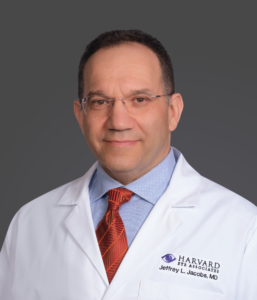 Dr. Jeffrey Jacobs joined Harvard Eye Associates in 2003 from Los Angeles where he worked in oculoplastic and facial reconstructive surgery at UCLA, Jules Stein Eye Institute. With more than 20 years of postgraduate education and research experience, Dr. Jacobs is one of only a few surgeons in the country who is certified in ophthalmology, oculoplastic surgery, and general cosmetic surgery.
Dr. Jacobs completed his undergraduate degree in Biochemistry at the University of Pennsylvania. While there, he conducted laboratory research on neuroblastoma cells, a rare childhood cancer, and published several important papers on the findings.
He continued his studies at the Columbia University College of Physicians & Surgeons in New York City, where he obtained his medical degree in 1992. His interest led him to complete a medical internship at Lenox Hill Hospital in New York City followed by a residency in ophthalmology at the University of Virginia in Charlottesville, where he served as chief resident in 1995-96.
In 1996, the Jules Stein Eye Institute at the UCLA Medical Center selected Dr. Jacobs for the prestigious Fellowship in Oculoplastic Surgery. While there, he was one of the first doctors to research and publish findings on the oculoplastic experience with the cosmetic use of botulinum A exotoxin, now known as BOTOX®.
Upon his completion at Jules Stein Eye Institute, Dr. Jacobs was chosen for the two-year American Board of Cosmetic Surgery Fellowship at The Morrow Institute in Rancho Mirage, California, where he later joined the Institute as the Oculofacial Plastic Surgeon.
In addition to his practice, Dr. Jacobs has lectured around the country on techniques of eyelid surgery and how to avoid complications with face-lift surgery. He is frequently invited to instruct other physicians on the art of blepharoplasty and eyelid reconstruction.
Dr. Jacobs lives in Laguna Beach with his two children.
"There is such gratification in performing eye and cosmetic surgery. For many patients, the results are life-changing."
No Financial Disclosures