Orange County Ophthalmologist
Specializing in Medical & Surgical Retina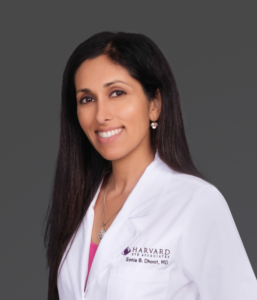 Dr. Sonia Dhoot is a board-certified, fellowship-trained ophthalmologist who specializes in the medical and surgical treatment of retinal and vitreous diseases. Her clinical interests include the diagnosis and treatment of macular degeneration, diabetic retinopathy, vascular occlusions, retinal detachments, macular puckers, and macular holes.
Dr. Dhoot is a native of Southern California. After high school, she attended a combined, accelerated seven-year undergraduate/medical school program at Rensselaer Polytechnic Institute and Albany Medical College in upstate New York.
She did her internship at Arrowhead Regional Medical Center. She then completed her residency in ophthalmology and two years of vitreoretinal surgery fellowship at the University of Missouri, Kansas City. In her ­final year of training, she was elected as the Chief Resident.
Dr. Dhoot is also a contributor to medical literature having authored abstracts, original papers, and book chapters. She has published in many different ophthalmic and neurologic journals and textbooks. She is a member of the American Society of Retina Specialists and the American Academy of Ophthalmology.
Dr. Dhoot lives in Irvine with her husband Jash, a cardiologist who specializes in electrophysiology. They have two young children. She enjoys spending time with her family, watching movies, and cheering for the Los Angeles Lakers.
"It is an honor to work with my patients and their families to improve their quality of life by helping to restore their vision."
Financial Disclosures
Consultant – Alimera, Glaukos