Oculoplastics in Orange County, CA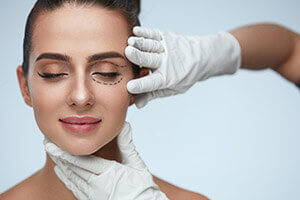 Oculoplastics is the general term for any type of surgical procedure that involves the eyelids, eye socket (orbit), tear ducts, and the face.
Procedures can be performed to:
Improve vision that has become obstructed due to drooping eyelids
Raise drooping eyelids for cosmetic reasons
Correct entropion (where the eyelids turn inward)
Correct ectropion (where the eyelids turn outward)
Reduce excessive tearing or eye-watering
At Harvard Eye Associates, our doctors perform eyelid surgery (blepharoplasty), ptosis repair, and other surgical procedures to help our patients meet their vision and aesthetic goals.
It is important to choose a highly trained doctor that is familiar with both cosmetic surgery and eye health procedures when choosing a surgeon for your reconstructive procedures. We offer consultations so you can meet our team, discuss your objectives, and get all of your questions answered. Our doctors will provide recommendations on the best course of action to meet your goals.
Schedule a consultation with us today.