Orange County Ophthalmologist
Specializing in Glaucoma & Cataracts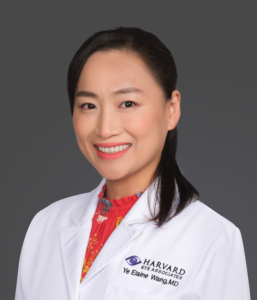 Dr. Wang is a board-certified ophthalmologist who specializes in glaucoma and cataracts. After receiving her undergraduate degree from the University of Rochester, New York, Dr. Wang then pursued her medical degree at Duke University School of Medicine where she was elected into Alpha Omega Alpha, the most prestigious and nationally-recognized medical honor society.
She then moved to Los Angeles where she completed her internship at the Harbor UCLA Medical Center and ophthalmology residency at the Stein Eye Institute, David Geffen School of Medicine at UCLA. Afterward, she moved to Florida where she completed her glaucoma fellowship at the world-renowned Bascom Palmer Eye Institute, University of Miami.
Dr. Wang specializes in the management of cataract and glaucomatous diseases such as primary open-angle glaucoma, pseudo-exfoliation glaucoma, narrow-angle glaucoma, and secondary glaucoma caused by other eye conditions.
Surgically, she performs cataract surgery, provides glaucoma laser treatment as well as procedures ranging from the newest micro-incisional (or minimally invasive) glaucoma surgeries (MIGS) to the traditional filtering surgeries, and glaucoma shunt implantation.
While Dr. Wang was attending Duke University School of Medicine, she was granted the John Henry Dorminy Medical Scholarship and the Medical School Faculty Wives Endowed Scholarship. She was also awarded the Senior-William G. Anlyan Scholar Award and the Vice President Clinical Research Award.
Dr. Wang has exceptional experience and interest in conducting clinical and epidemiological research projects with publications on many top ophthalmology journals, including Ophthalmology, JAMA Ophthalmology, Investigative Ophthalmology & Visual Science and British Journal of Ophthalmology. She continues to work on research projects with colleagues throughout the U.S. and in China on surgical outcomes and ophthalmology education. She has been invited to present her work at several regional and national meetings. She also dedicates her time to writing a patient education blog in Chinese explaining basic eye conditions such as dry eyes, cataracts and glaucoma.
During Dr. Wang's free time, she plays badminton at a nationally competitive level and loves yoga, pilates and dancing. She enjoys writing, Chinese traditional painting, gardening, traveling, and hiking with her two dogs, Hulu and Benzi. As an asset to our diverse community of patients, she is also fluent in Mandarin and Cantonese.
"I thrive to help restore and improve my patients' vision, but they at the same time help change the way I view the world! It is a beautiful thing when a career and a passion come together."
No Financial Disclosures