Orange County Eye Doctor
Specializing in Medical Retina & Cataract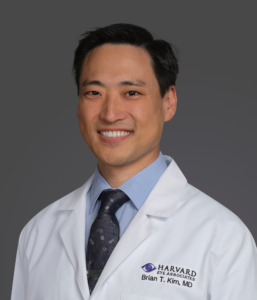 Dr. Brian Kim is an accomplished and compassionate board-certified ophthalmologist who specializes in the clinical treatment of retinal and macular diseases including macular degeneration, diabetic retinopathy, retinal vascular occlusions, and other macular and retinal conditions. He also evaluates for retinal toxicity in patients taking certain medications such as Plaquenil, treats uveitis, and performs cataract surgery.
After receiving his Bachelor of Science in mechanical engineering from Columbia University in New York, he earned his Medical Degree from Pennsylvania State University. He then completed his internal medicine internship at St. Joseph's Hospital in Phoenix, AZ. He completed an ophthalmology residency at the Gavin Herbert Eye Institute at the University of California, Irvine.
He then went on to complete a fellowship in medical retina at the prestigious Bascom Palmer Eye Institute in Florida. He has published and presented over 15 novel research projects and has been interviewed for both local and national television programming.
Dr. Brian Kim has always had a penchant for technology, starting well before medical school. In high school, he assembled robotic dinosaurs for museums, and by his first year of college, he was modeling and testing components for a biomechanical engineering company.
After graduation, he worked as a database programmer for Accenture in the pharmaceutical and biotechnology division. He then went on to study mechanical cardiac devices and assist with heart and lung transplant surgeries. It is this passion for advanced technology that has led him into the field of ophthalmology and to Harvard Eye Associates.
He is honored to return home and join Harvard Eye Associates with his father, Dr. Edward Kim. While in the internship, Dr. Brian Kim met his beautiful wife, Amanda, and they have one daughter, Sloane, who was born in 2014. They are kept busy by their rambunctious pug dog that has a proclivity for mischief.
"Vision is our most valuable sense — I feel extremely privileged to help people in the care of their eyesight."
Financial Disclosures
Eyedaptic – Consultant & Shareholder
Eyenuk – Research Funding
Notal Vision – Speaker
Thrombogenics – Speaker