Orange County Eye Doctor
Specializing in Cataracts, Refractive Surgery, Pterygium, & Anterior Segment Disease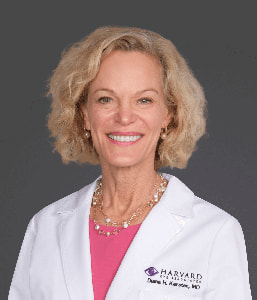 Dr. Diana Kersten is a board-certified ophthalmologist with over 30 years of experience in the field of ophthalmology. She specializes in cataract and refractive surgery, pterygium surgery, and general ophthalmology. She grew up in Iowa City, Iowa, and received her medical degree from the University of Iowa College of Medicine. She then trained in ophthalmology at Harvard Medical School, Massachusetts Eye and Ear Infirmary in Boston.
Following her residency, Dr. Kersten worked in developing countries for two years and completed a fellowship in International Ophthalmology. She joined Harvard Eye Associates in 1988 and has been dedicated to providing her patients with the best possible individualized care through her warm, thorough approach and meticulous attention to detail. She has lectured in many countries throughout the world and has published articles in ophthalmology journals. Dr. Kersten has been recognized as a Physician of Excellence by the Orange County Medical Association.
Dr. Kersten's passion and commitment to ophthalmology patients extend far beyond her practice at Harvard Eye Associates. She has volunteered her time to numerous medical missions and nonprofit groups, joining in the effort to combat blindness in developing countries. To date, she has worked in over 20 countries, including Malawi, Vietnam, Honduras, Laos, and Myanmar. She enjoys teaching and providing medical and surgical eye care to those in the greatest need. In 2019, she and her team organized Operation Restore Sight. All of Harvard Eye's doctors participated in this program to provide 54 free eye surgeries to uninsured and low-income patients referred from St. Jude Neighborhood Health Centers. Dr. Kersten and the Harvard Eye doctors continue to provide ongoing services for this group.
Dr. Kersten has one son and in her free time, she enjoys theater, reading, fitness, skiing, and travel.
"I really enjoy my patients and I'm focused on providing the best care and eye surgery for each and every patient. I enjoy discussing the options and possibilities so that patients can decide on the surgery and treatment that is best for them."
Financial Disclosures
Alicia Surgery Center – Shareholder