Orange County Eye Doctor
Specializing in Cataract, Cornea, & Refractive Surgery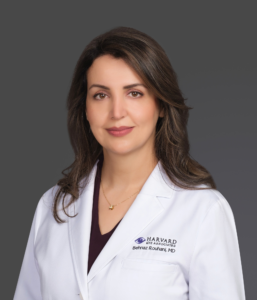 Dr. Behnaz Rouhani is a board-certified ophthalmologist who specializes in cornea, cataract, and refractive surgery. After receiving her medical degree with high honors from Shahid Beheshti University of Medical Sciences in Tehran, Iran, she pursued a clinical research fellowship in ophthalmology at the Rocky Mountain Lions Eye Institute at the University of Colorado.
Subsequently, she was granted a residency in ophthalmology at Drexel University College of Medicine in Philadelphia, Pennsylvania, where she was chosen as the Chief Resident during her final year. This was followed by a fellowship in Cornea and Refractive surgery at Ross Eye Institute the State University of New York, where she worked alongside renowned cornea transplant surgeons and gained extensive experience.
Dr. Rouhani specializes in the medical and surgical treatment of corneal disorders, such as ocular surface disease, corneal dystrophies, and laser vision correction. She is a skilled surgeon with a compassionate, patient-focused approach.
She integrates the most advanced techniques to provide her patients with state of the art eye care in corneal diseases, advanced corneal transplant procedures such as DMEK (Descemet's Membrane Endothelial Keratoplasty) and DSEK (Descemet's Stripping Endothelial Keratoplasty), laser vision correction, and cataract surgery.
Dr. Rouhani is also board-certified in Internal Medicine. This unique combination enables her to have a better understanding of the overall health of her patients and how different systemic diseases can affect eye health.
Dr. Rouhani is a diplomate of the American Board of Ophthalmology and a fellow of the American Academy of Ophthalmology. Additionally, she is a member of several professional organizations, including the Cornea Society, the American Society of Cataract and Refractive Surgery, and the American Board of Internal Medicine. Dr. Rouhani has given several educational presentations and has also contributed to various publications on diverse ophthalmic subjects.
Dr. Rouhani resides in Orange County with her husband and two young children. She enjoys spending time with her family, traveling, tennis, and swimming. As an asset to our diverse community of patients, she is also fluent in Farsi.
"It is truly an honor, a privilege, and an absolute blessing to be able to help people live a better life and enjoy their gift of sight in the best way possible. What I care most is treating my patients' eyes as if they were my own."
No Financial Disclosures