Orange County Ophthalmologist
Specializing in Cataracts, Cornea Surgery, & Anterior Segment Disease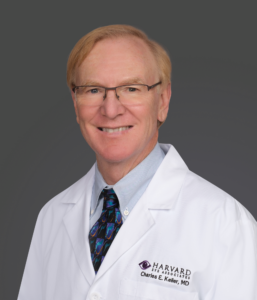 Dr. Charles E. Keller is a board-certified ophthalmologist with over 25 years of experience in the field of ophthalmology. After receiving his BA from Brown University and medical degree from Boston University School of Medicine, Dr. Keller moved to Northern California where he completed his internship at Mount Zion Medical Center, San Francisco. He then returned to Boston, where he completed his ophthalmology fellowship at Beth Israel Hospital, Harvard Medical School.
Afterward, Dr. Keller completed his ophthalmology residency at Brown University, Rhode Island Hospital. He also completed a cornea fellowship at University Ophthalmic Consultants of Washington, Washington DC. He then moved to Southern California, where he has provided ophthalmic care in Orange County for almost 20 years.
Dr. Keller has served as a Clinical Instructor in the Department of Ophthalmology, University of Southern California, Doheny Eye Institute, Chairman of the Ophthalmology/ENT department at St. Joseph Hospital, and as President at the Orange County Society of Ophthalmology.
He has also been recognized by the Orange County Medical Association and recognized as an Orange County Physician of Excellence by Orange Coast Magazine.
Dr. Keller enjoys staying active and participating in sports such as tennis, skiing, and running. He was also a professional tennis player in Europe and a member of the varsity tennis team during his time at Brown University. He resides in Laguna Beach with his wife and their twin kids, one boy and one girl, who are in college.
"I believe all patients are entitled to the best eye care possible to achieve their full visual potential. I strive to combine the latest technology with the patient's personal desires or lifestyle. I treat each patient as I would my own family member, with care and respect. From routine eye examinations to complex cataract surgery, my goal is to provide optimum visual outcomes for every patient."
No Financial Disclosures