Orange County Eye Doctor
Cornea, Cataract and Refractive Surgery Specialist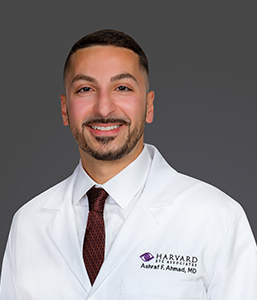 Dr. Ashraf Ahmad is a board-certified, fellowship-trained ophthalmologist who specializes in cornea, cataract and refractive surgery. He is highly skilled in corneal transplantation, ocular surface reconstruction, cataract surgery and other complex anterior segment procedures. He also has a special interest in LASIK and PRK.
Dr. Ahmad completed an accelerated 6-year BS/MD program. He graduated Summa Cum Laude with a Bachelor of Science from Kent State University. He obtained his medical degree at Northeast Ohio Medical University followed by a year of internal medicine at the Cleveland Clinic. He then completed his residency at Case Western University in the department of Ophthalmology, where he served as chief resident and awarded the Most Exemplary Resident.
Dr. Ahmad completed his fellowship training in cornea and refractive surgery at the University of California Irvine, Gavin Herbert Eye Institute. He has experience and a special interest in corneal transplantation (full thickness and partial thickness), femtosecond laser assisted cataract surgery (FLACS), secondary and scleral-fixated (Yamane) intraocular lens implantation, pterygium excision, as well as LASIK and PRK.
He is a member of the American Academy of Ophthalmology and the Orange County Society of Ophthalmology. Dr. Ahmad is fluent in Arabic and conversant in Spanish. He resides in Orange County, CA and enjoys weightlifting, playing basketball, traveling, hiking and escape rooms during his free time.
"I feel incredibly privileged to be in this profession and to be able to provide patients with advanced sight restorative therapies. I have a genuine passion for ophthalmology and constantly strive to treat patients as if they are family. I enjoy educating patients on their options and providing them with individualized treatments."