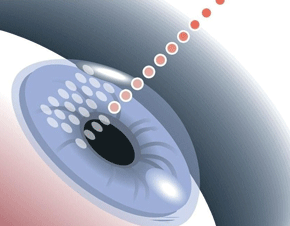 Flapless LASIK is a term used for any laser vision correction surgery that does not involve creation of a corneal flap. Flapless LASIK surgery is a very different procedure from traditional LASIK, although both types of LASIK procedures generally result in excellent corrected vision that eliminates the need for eyeglasses or external contact lenses. Types of flapless LASIK surgery are photorefractive keratectomy (PRK) LASEK and Epi-LASIK.
Flapless eye surgery is an excellent treatment option for those whose corneas are too thin or irregularly shaped to benefit from traditional LASIK. Recovery time from a flapless eye surgery procedure is slightly longer than from traditional LASIK surgery, and those undergoing this treatment should expect two to three days of mild tears, sensitivity to light and even some limited discomfort.
Similar to traditional LASIK, the procedure is classified as relatively painless and performed as an outpatient procedure outside of a hospital. Eye drops are used as a local anesthetic and the procedure is very quick. Following a short rest period, the patient is able to return home and more fully recover with a clear, neutral contact lens covering and protecting the treated eye for a few days. Special medications and eye drops are frequently prescribed during this time to keep the patient as comfortable as possible.
In flapless LASIK procedures, the corneal stroma (the part of the eye that is reshaped with the laser) is exposed by removing the overlying layer of epithelium.
These procedures are known for their post-operative discomfort lasting for 3 to 4 days following the surgery. Also, visual recovery may take longer than that of traditional LASIK.
During Epi-LASIK, the epithelium is moved out of the way as a sheet using a blunt vibrating blade called the epikeratome.
Your doctor in Laguna Hills is fully experienced and qualified to perform flapless LASIK surgery as well as many other treatment options. Our doctors have successfully helped thousands of people enhance their quality of life by improving their vision through LASIK. Your path to better vision begins with contacting Harvard Eye Associates at 949-951-2020 or harvardeye.com for a consultation.