Orange County Eye Doctor
Specialist in Oculofacial Plastic and Reconstructive Surgery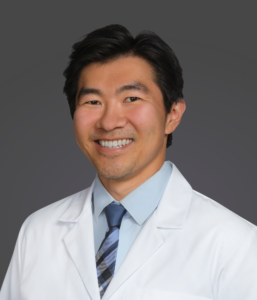 Dr. Jonathan Noguchi is a fellowship-trained oculoplastic surgeon who specializes in both functional and cosmetic surgeries of the eyelid, tear duct, and orbit, including reconstruction after skin cancer removal. He also has extensive experience with non-surgical cosmetic procedures such as Botox.
Dr. Noguchi performed his undergraduate studies at Stanford University, where he obtained a degree in Biology. While there, he conducted biomolecular research to find targeted treatments for a rare and aggressive brain tumor called glioblastoma multiforme and was awarded the Stanford University Bio-X Grant and the Stanford University Major Grant.
Dr. Noguchi subsequently completed his medical degree at the University of California, San Diego School of Medicine, followed by a year of internal medicine at Santa Clara Valley Medical Center. After three years of ophthalmology residency training at Loyola University Medical Center and the Edward Hines, Jr. Veterans Affairs Hospital in Chicago, he concluded his training with an intensive fellowship year at the University of Calgary in Alberta, Canada, where he performed nearly 1,500 surgeries on the eyelids, tear ducts and orbit.
In addition to gaining extensive medical and surgical experience, Dr. Noguchi devoted time as a medical volunteer to provide healthcare and guidance for the indigenous population at the Llanos del Pinal rural clinic in Guatemala through the Somos Hermanos Program. He also collaborated with medical students from Universidad Autonoma de Baja California to operate free mobile healthcare clinics in rural Baja California.
Dr. Noguchi returns now to his native Southern California to share his compassionate care and expertise in eyelid surgery with the patients of Harvard Eye. In his free time, Dr. Noguchi enjoys exploring new beaches and hiking trails with his wife and their young son.